Are you looking to invest in property through your Self Managed Superannuation Fund? If so, there may be more involved in getting a mortgage than you might think!
Mortgages generally
Most of us are familiar with how a mortgage works. When you borrow money from your bank to buy a property, you are taking out a loan for a specific amount of money. That loan is generally secured against your property by a registered mortgage – a legal agreement which gives the bank the power to sell the property and repay the loan if you default.
In some cases though, if you do default on your mortgage payments, this isn't the end of the story. If the bank doesn't get enough money from the sale to repay the whole of the loan (and any other money you might owe them by then – such as enforcement costs or interest), you'll still be responsible for paying off the rest of the loan. This means that the bank could sue you and recover the rest of the debt from your other assets.
Does this mean the bank can claim my super if I borrow through my SMSF?
Australian law recognises the importance of protecting your super – so normal mortgage arrangements like the one above are not allowed for SMSFs.
Instead, people looking to borrow through their SMSF are required to put in place a special kind of asset protection arrangement – called a 'Limited Recourse Borrowing Arrangement' to limit the ability of the Lender to access other assets held in your super in the event that they can't recover the full debt from the sale of the property.
How does it work?
A limited recourse borrowing arrangement works by creating a Trust outside your superannuation – sometimes called a 'Bare Trust' or 'Custodial Trust' and buying the property through that Trust. The Bare Trust has a very specific job – to hold and manage the Property on behalf of your SMSF.
If the Trustee of the Bare Trust then defaults on the mortgage for any reason, the bank's ability to recover money is limited only to the money and assets held in that Bare Trust. This means that the rest of your superannuation – the money and assets which are not invested into this specific property – are safe and protected.
This is where the name 'Limited Recourse Borrowing' comes from. The Lender's ability to enforce the debt is limited only to the property held by the Bare Trustee – and the only property the Bare Trustee owns is mortgaged property.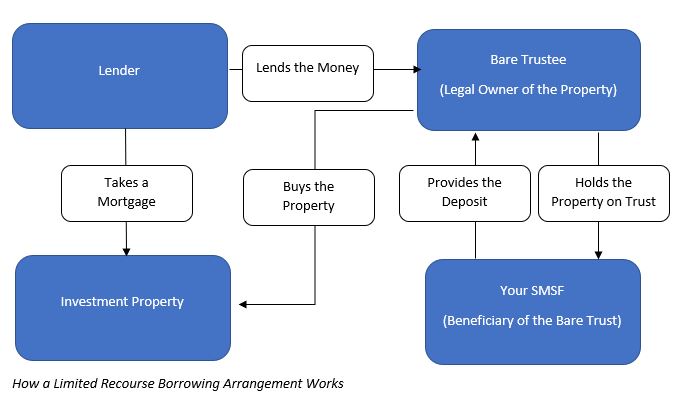 Does that mean that I'm protected against any claims from the bank?
Not necessarily.
You can still potentially lose the Property itself in the case of a default, which will be a big hit to your super.
Outside that, your Bank might have some additional requirements before they will consider offering you a Limited Recourse Borrowing Arrangement. This could include requiring you to pay a higher deposit when you buy the Property (often at least 30%).
Importantly, you may also be asked to give a personal guarantee for the Loan. This means that while your super (outside the property itself) might be protected, any assets or money you hold in your personal name outside your SMSF might not be.
Get advice early, and do it right
This is a highly technical area, and it is important to only enter into an arrangement like this with proper legal and financial advice.
Once you've set up your structure, it will be scrutinised by your bank. If your structure isn't right, it can cause significant delays and costs associated with getting your finance. If a problem comes up after you've exchanged contracts, it could even cause delays to settlement – which may in turn result in costs, penalty interest, or even loss of deposit.
Are you looking to buy property through your SMSF? You can speak to one of our Property or Commercial lawyers by calling our reception on (02) 6206 1300, or by submitting an online enquiry.