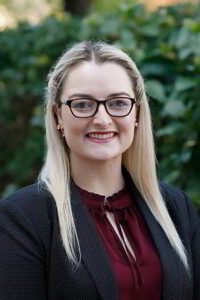 Mariah has experience in a wide range of family law matters and works with her clients to achieve the best outcome possible.
Mariah appreciates the sensitive nature of family law and always endeavours to make to make her clients feel as supported as possible. She is focussed on exploring cost effective options, guiding them through the family law process and wherever possible, settling matters without the need for unnecessary litigation.
Mariah joined elringtons in 2021. Prior to joining elringtons she was working in a boutique family law practice in Canberra.
Mariah graduated with a Bachelor of Laws with Honours from the Australian National University. She then completed her Graduate Diploma of Legal Practice at the Australian National University and was admitted to the Supreme Court of the Australian Capital Territory in 2018.
Mariah serves as a committee member on the ACT Young Lawyers Committee. She also enjoys volunteering as a mentor in the Women Lawyers Association ACT mentoring programs.
Mariah provides advice in all areas of family law including:
Parenting matters, including living arrangements and time that children spend with each parent
Division of property following the breakdown of a marriage or de facto relationship
Consent Orders recording an agreement reached – both in relation to property (following the breakdown of a marriage or de facto relationship) and parenting matters
Binding Financial Agreements
Care and protection
Divorce
Adoption
Child Support
Family Violence and personal protection matters
Mariah's Qualifications and Memberships include:
Bachelor of Laws (Honours), Australian National University (2017)
Graduate Diploma of Legal Practice, Australian National University (2019)
Admitted as a Solicitor to the Supreme Court of the ACT (2018)
Member of the ACT Law Society
Member of the ACT Young Lawyers Committee
Mentor in the Women Lawyers Association ACT mentoring programs
What our clients are saying about Mariah