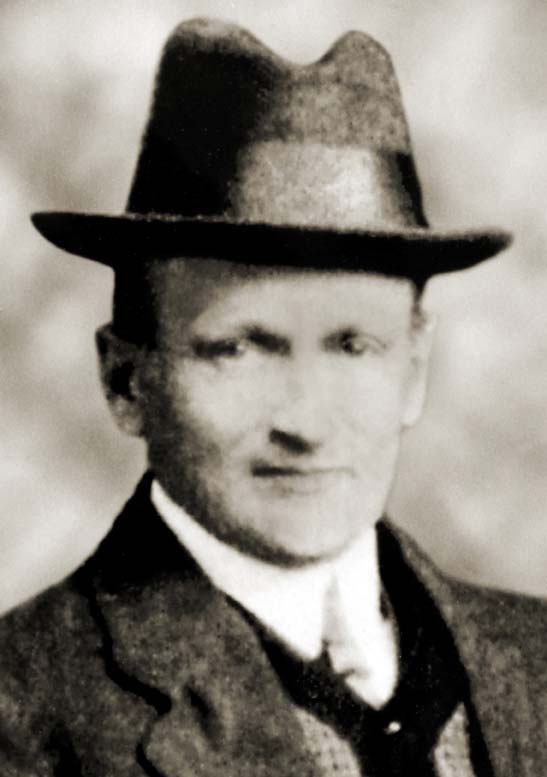 Frederick Percy WOODWARD (16 July 1871-2 January 1935)
Though now scarcely remembered in Canberra and Queanbeyan, Frederick Percy Woodward was one of the most prominent citizens in the local area for several decades in the early part of this century. He was the founder in Queanbeyan of the law firm, Elrington Boardman Allport, Mayor of Queanbeyan for several terms and the foundation President of the ACT Law Society. While these achievements speak highly of Frederick Woodward's abilities and of his public and professional standing, his relative obscurity today masks the extraordinary obstacles he had to overcome in order to achieve his success.
Frederick Woodward's grandfather was a London tailor named John James Woodward. At the age of 21, he ran afoul of the law when, despite his protestations of innocence and the inconclusiveness of the evidence, he was convicted at the Old Bailey of stealing a pair of trousers, his first offence.  He was transported the following year, 1832, to New South Wales. As it turned out, the forced migration proved a blessing in disguise for the young man. After serving out his sentence, he formed what turned out to be a very profitable business partnership in Goulburn with another transportee, Joseph Bull.   The two men operated the Commercial Stores and later John James Woodward built and operated on his own account the Commercial Hotel.  Woodward ended up a very wealthy man, a benefactor of the town and, in 1859, a member of the first Goulburn Municipal Council. He died in September 1861, leaving a widow and five children.
The fourth of John James Woodward's children was his second son, Francis, then aged fifteen.  Clearly an intelligent boy, he was articled three years later to the Goulburn solicitor, Charles Hamilton Walsh, to study law. Walsh had served alongside John James Woodward as a member of the first Goulburn Council and had in fact been the town's first mayor. Francis Woodward completed his legal training with Walsh in December 1869 and shortly afterwards married Emily Mary Ann Allen in Wollongong, where the couple settled and Francis set about establishing a legal practice.
On 16 July 1871, Emily Woodward gave birth to the couple's first child, a son they named Frederick Percy; five more children were to follow.   For his schooling, Frederick attended a private educational institution called Illawarra College.       All the while he was growing up, his father's career flourished as he built his legal practice in Crown Street, Wollongong, into a thriving concern.   In 1887, moreover, he succeeded in winning election to the NSW colonial parliament as the Member for Illawarra. Marked out to follow in his father's footsteps, Frederick passed the 'Law Exam' for matriculation to the University of Sydney in 1888 and commenced university studies the following year.  He graduated a Bachelor of Arts in 1892 and was immediately articled to his father to study law.
All seemed set fair for the young man, but at this time his father's fortunes began to turn disastrously for the worse.  In the economic boom period in which his career had prospered, Francis Woodward had speculated recklessly with his clients' funds.  When the crash came in the early 1890s, he was unable to repay the moneys and was struck off the roll of solicitors for mal practice.  A conviction followed and three years's imprisonment.  As the family's comfortable life collapsed, Emily Woodward and her children fled to Sydney where took up residence in Newtown.  Emerging from his prison sentence a much chastened man, Francis Woodward found work as a short-hand teacher in a business college. He died in September 1905.
In the very midst of this turmoil and with the odour of his father's disgrace surrounding him, Frederick attempted his final law exams and not surprisingly failed in all subjects.  Not one to give up, however, he sat the exams again the following year and passed. He was duly admitted to legal practice at the age of 25 on 29 May 1897.  Though now entitle to practice, it was no easy matter for the fledgling young solicitor to find work.  Under some suspicion no doubt of being involved in his father's schemes; Frederick did not represent an attractive employment proposition for legal firms.
Fortunately, in this predicament, family connections came to Frederick's rescue.  Way back in 1864, his uncle, James Woodward, had moved from Goulburn to run the new telegraph station in Queanbeyan. James Woodward had later married Harriett Willans, daughter of Obadiah Willans, the leading government and court official in Queanbeyan for more than thirty years.  Though James Woodward had long since died, the Willans family had maintained contact with Francis Woodward and his family in their distress.  It was the Willans family that was virtually to sponsor Fredericks's move to Queanbeyan.
In mid-1900, far from the public scandal that had engulfed his father, Frederick Woodward arrived in Queanbeyan to establish his own legal practice.  He commenced business on 2 August 1900 in premises next to the School of Arts in Monaro Street.  Over the next few years, he steadily build up the practice and, hand-in-hand with it, the trust of the townsfolk.  A keen cricketer and tennis player, Frederick also began to join in the sporting life of the community.  As a wicketkeeper and a fine opening batsman, he eventually played for the Queanbeyan Cricket Club for nearly two decades and captained the local team for several years.
Frederick's municipal career began in May 1910 when he stood unopposed to fill a casual vacancy on the Queanbeyan Municipal Council.  The Queanbeyan Age hailed his entry into municipal affairs, describing him as 'a conscientious and tireless worker, and a faithful servant of the ratepayers.'  Three years later, on 12 February 1913 he was elected unanimously by the other Council members as the town's mayor.  His first term as mayor, however, was quite short=lived.  Rivalries among the councilors saw a succession of meetings lapse for want of a quorum, and other than preside over a dysfunctional Council, Frederick resigned.  He was obviously a man of some principle.
Despite this setback, Frederick continued to serve as a Council member and, in February 1915, was re-elected mayor by his fellow councilors.  Again elected unopposed as mayor the following year, he held the position until mid-1917.  At this point, Frederick was beginning to labour under the great demands made on him by his conduct of a busy legal practice and his Council and other civic duties.  For, apart from his mayoral responsibilities, he was deeply involved in the management of both of the School of Arts, the town's premier cultural organization of which he as the President, and of the Queanbeyan Hospital, an institution he served for many years Honorary Treasurer.  Seeking to ease the burden of duties, Frederick announced in June 1917 that he would not be standing as a candidate in the forthcoming municipal elections.
It was in his work with the hospital that Frederick met the woman who would become his wife.  Following the resignation of the hospital's matron in late 1915, Sister Rose Imelda O'Keeffe came fro Croydon in Queensland, where she had been working, to take up the position.  Like most of the hospital's matrons in this era, Rose O'Keeffe did not remain for long in the job.  Though the Hospital Board expressed itself well satisfied with her services, she resigned after only nine months.  Her brief period at the hospital, however, was sufficient for the beginnings of a friendship to blossom between her and Frederick.  Eventually, the pair now both around fifty years of age, married in Sydney on 1 October 1920.  There were no children of the marriage.
At the beginning of this same, Frederick had once again put himself forward as a candidate in the Queanbeyan Council elections.  Delighted at his re-nomination, the Queanbeyan Age reported that:
… he has had a well-earned spell from the civic track, but still takes a fatherly interest in the doing of Council.  His previous performances are such as to install him as red-hot favourite and we see nothing in the field that can hold a candle to him; he has been before the public so often and won their approbation that it may truly be 'he is now home and dried'.
The newspaper's forecast proved absolutely correct as Frederick topped the poll.  In December, two months after his marriage, he was elected mayor for the year 1921 and, a year later, he reluctantly accepted the position for a further twelve month period.  His reluctance arose from the pressure he was once more feeling in endeavouring to carry out the range of his public and professional responsibilities.  It was not unexpected, therefore, when he decided at the end of 1922 to retire permanently from the Council.  By then he had given ten years' service as a councillor and had been five time mayor of the town.  His most valuable contributions as a Council member had been in securing the electricity service for Queanbeyan and, more generally, in giving Council the considerable benefit of his legal expertise.
Frederick's withdrawal from municipal affairs was not quite the end of his public life, however.  By 1926, he as offering his services as a solicitor in Canberra where major construction programme was under way to turn the site into the seat of federal government.  With the establishment of Federal Parliament in the ACT and the influx of a new population, local solicitors saw the need to from an organisation to regulate legal practice in the territory.  Thus was formed on 12 April 1933 the ACT Law Society, and the solicitor elected to be the society's first President was Frederick Percy Woodward.  His election to the position was a singular mark of the esteem in which he was held by his peers in the legal profession and of the trust and confidence they had in him and his abilities.
But, by this, Frederic's health was already failing and he was soon obliged to give up court appearances.  He eventually passed away at the age of 63 on 2 January 1935 and was buried in Queanbeyan's Riverside Cemetery.  His wife, Rose, survived him by some three years, dying in Manly in April 1938.  In his 35 years on the Canberra-Queanbeyan area, Frederick Woodward had given outstanding service to the community in both his public and professional roles.  It is abundantly clear that he came to be universally recognized by his contemporaries as a man of uncommon ability and integrity and a natural community leader.  His achievements are all the more commendable in the light of the early struggles he faced to establish himself in the legal profession at all.