Solicitor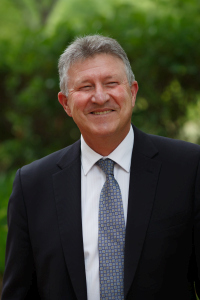 Rod Anthes has been a lawyer for 25 years.
Rod commenced his career at Phillips Fox Solicitors in Sydney before making a "tree change" to Bathurst where he practised for over 20 years.
At Phillips Fox Rod was involved in large scale property redevelopment and commercial leasing. He acted with respect to the sale of major Hotels in Sydney and was heavily involved in the redevelopment of the old Resches Brewery Site in the inner West and the developments along Sunnyholt Road, Parklea.
Whilst in Bathurst Rod worked extensively for Banks, Credit Unions and building societies in addition to numerous individual and corporate clients. In recent years he was responsible for the legal work involved in the redevelopment of Mount Panorama Race Track including the track itself, Pit Lane facilities and the Citigate Hotel- a project in itself worth over $50,000,000. He was also deeply involved in the preliminary property transactions, development and leasing of Bathurst's major shopping centres and leading restaurants.
Rod has extensive experience in both rural and domestic property transactions and estate planning. He has also successfully conducted major estate litigation on a number of occasions.
Rod's practice area includes:
Business services & planning
Property Law and Employment Law
Wills, Probate and Estate Planning
Franchises
Qualifications and Memberships:
BALLB, from Macquarie University, Sydney
Admitted as a Solicitor in the Supreme Court of New South Wales
Practicing Certificate – ACT
Interests
As a member of Rotary, Rod attained the highest honour with the award of a Paul Harris Fellowship for service to the community and most particularly with respect to the international exchange student program. In addition Rod was a member of the Charles Sturt University Animal Ethics Committee for a number of years and a Judge of the Supreme exhibit at the Royal Bathurst. Rod was also Chair of the Commercial Law Group of the AustLaw association and a member of its Board.
e: ranthes@elringtons.com.au | p: 02 6206 1300