Senior Associate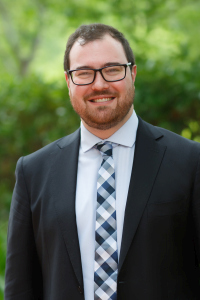 Mitchell specialises in Wills + Estates and Property + Commercial Law.
His Wills + Estates practice concentrates on family provision claims, inheritance disputes and provision of advice on wills, powers of attorney and guardianship.
Mitchell's Property and Commercial Law practice comprises of commercial leasing matters, sale and purchase of businesses, corporate governance including provision of advice and preparation of shareholders and partnership agreements and asset protection structures.
Mitchell strives to provide a personal service, tailored to his client's needs. In particular, he prides himself on his ability to cut through technical legal jargon to provide high quality, practical advice in a language his clients can understand.
Mitchell's client base ranges from private companies and individuals to co-operatives, associations, councils, and universities. As with all of Elringtons' solicitors, Mitchell is well acquainted with both the NSW and ACT jurisdictions.
Mitchell grew up in Eden, on the far south coast of New South Wales. In 2008, he moved to Canberra to study at the Australian National University, where he completed bachelors of Laws and Economics in 2013. Mitchell joined elringtons in early 2015 and was appointed an Associate to the firm in November 2018.
Mitchell's practice includes:
Estate Planning – including preparation of Wills, Powers of Attorney and Guardianship Documents.
Deceased Estate administration, including NSW and ACT Probate Applications, Letters of Administration, and other grants of representation (including reseals from other jurisdictions)
Asset protection, including corporate and trust structures
Contentious estate matters – including contested Wills, and applications for provision from Estates
Drafting of Retail and Commercial Leases (for landlords) and reviewing, advising, and negotiating Retail and Commercial Leases (for tenants)
Sophisticated property arrangements, including co-ownership agreements, options, easements, covenants, mortgages, and more
Advice on loan agreements, including personal guarantees
Various commercial agreements, including purchase and sale of businesses, directors or shareholders agreements, security agreements, and more
Contentious commercial and property matters
Qualifications & Memberships:
Solicitor of the Supreme Court of ACT (2014),
Graduate Diploma in Legal Practice, Australian National University (2014),
Bachelor of Laws, Australian National University (2013),
Bachelor of Economics, Australian National University (2013)
Member of ACT Law Society.